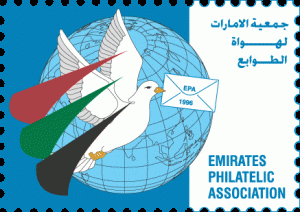 The Emirates Philatelic Association (EPA) was established in June 1996 to achieve the aims of :
encouraging and developing the promotion of philately
holding symposia and exhibitions on philately in co-operation with the authorized departments
co-operating with Arab and International Philatelic Associations and clubs.
Over recent years New Zealand has been represented at exhibitions and seminars in a number of countries of the Gulf Cooperation Council (GCC). In return some New Zealand National Exhibitions have welcomed a judge/commissioner from that area who not only has brought competitive exhibits from their country but also participated in the exhibition jury. These exchanges have been found very beneficial for the judges involved, have provided a different environment for the exhibits to be displayed and this has ensured the jury teams have been exposed to material they otherwise might not have seen.
In March 2014 it was agreed that a formal accord would be signed between the EPA and NZPF. This will see a philatelic judge and exhibits taking part in alternate years in national exhibitions in New Zealand and the United Arab Emirates. The accord does provide for judges or exhibits from other GCC countries and may also include exhibitions in the GCC.
The EPA/NZPF Accord