Stephen says
Federation awards 2017
Learning opportunities
Club news
Information for exhibitors
Exhibition reports
Stephen says –
Welcome to the second newsletter of 2017.
One of the pleasing things we do each year is giving out philatelic awards to deserving people involved with our hobby.  The recipients described in this newsletter fully deserve their awards and I am sure they will continue with their involvement for years to come.
It is not too early to start thinking of worthy recipients for next year.  Nominees should have promoted the hobby in a number of areas and not just within the one club.  We may not give an award because detail in the nomination is too brief assuming Federation knows as much about the person as the club does.  When nominating someone please provide full details of the person's contributions.
The Federation executive has been doing their best to get to meetings of member clubs around the country.  They have spoken briefly about Federation and in some cases have been the guest speaker.  Our target is to visit every club at least once every two years and so far in 2017 we've been to over half.  When planning your programmes for next year keep in mind executive members could visit to provide and seek feedback on Federation's activities and, if asked, be speaker for the meeting.
We are trying something different this year for our AGM.  Rather than after the executive meeting with at most five or so society representatives in addition to the executive we will be holding the AGM in Hamilton during Royalpex 2017.  The exhibition will draw people from around the country and we hope this means more societies will be represented at the AGM and other collectors can attend.
This year's National Exhibition, Royalpex 2017 is being held 24-26 November in Hamilton.  It will be a first in that it is a half-National sharing classes with another half-National in Adelaide in October.  Royalpex has been well supported with entries of over 400 frames with around 150 coming from Australia.  Early next year there are two half-Nationals in Australia – Canberra in March and Newcastle in May.  The New Zealand commissioners, Josh Black and Mark Benvie respectively, will be seeking entries from new and existing exhibiters shortly.  Please support these Australian exhibitions as Australian exhibitors support us.
Federation approved an application to hold an exhibition in Auckland in early 2020.  FIAP has recently granted approval for this exhibition, 'NZ2020', to be an Asian International.  This is quite exciting as New Zealand last held an international exhibition in 1990.  Those attending will get to see a wide range of world-class exhibits as well overseas dealers and auction houses not normally seen here in New Zealand.
We are in regular contact with our colleagues the Australian Philatelic Federation and try to meet informally at exhibitions.  We discuss our different activities and find issues affecting collectors and societies are often the same in both countries.  Our next informal meeting will take place at Royalpex.
We are looking at options available to upgrade the exhibition frames.  As collectors we all know what happens when you don't look after mint stamps – they can go rusty.  This is the same with the backing boards in the frames.  A trial upgrade of backing boards for 40 frames is underway.  These frames will be used at Royalpex to ensure the upgrade will be effective.
I hope to catch up with many of you in November in Hamilton at Royalpex.
I can be contacted by email at any time – president@nzpf.org.nz
Stephen Chivers
Federation awards 2017
ALAN CRAIG – Award of Merit
Alan was nominated by the Waikato Philatelic Society and the Royal Philatelic Society of NZ.  Their nominations provided the following material in support of Alan.
"Alan worked as a Chemist with the Department of Scientific and Industrial Research in Palmerston North before he became a Stamp Dealer in Hamilton.  He is a perfectionist and anything he says or writes is based on strong information and will stand the test of scrutiny.
"He is a member of several philatelic societies and associations but principally Waikato Philatelic Society (Auditor 1993 – 1998), Royal Philatelic Society of NZ, Royal Philatelic Society of London and the NZ Stamp Dealers Association.
"Alan has strong collections of NZ Revenues; NZ Cinderellas; 'Back of the book' material including labels (especially 'Officially Sealed' Labels); forgeries (he has the best reference collection of NZ forgeries as well as a very strong collection of forgeries from other countries); and, a massive collection of NZ Stamp Dealer-related material.
"He has an incredible depth of knowledge on most NZ stamp issues and his chemistry background gives him a unique insight into stamp related issues.  This includes not just the details of stamp issues but recognition of forgeries, a very good understanding of colour varieties and changelings and, in fact, most technical areas of NZ philately.  Alan is always available for advice to any collector.  Alan became the Convenor of the Royal's Expert Committee in 2013 and is responsible for allocating items to specific members for consideration.
"Alan, with G W Turner, published New Zealand Beer Duty Stamps Handbook in 1997 and contributed a 15 page article The Stamp Trade 1988 – 2013 in the Royal's 125 Years of the Royal Philatelic Society of New Zealand and a wide range of articles in the New Zealand Stamp Collector.  He is currently working on a series of articles relating to Post Office 'Found Open – Officially Sealed' Labels as well as an article on the long type revenues.
"Alan has provided talks on a variety of subjects to societies and is always happy to share his knowledge.  His talks have included 'Two brothers' correspondence prior to and during the Boer War'; on his very large and strong collection of New Zealand Cinderellas; several times on various aspects of the technical side of philately such as identifying papers, the care needed in measuring perforations, detecting repaired stamps, identifying forgeries, etc.; and, his most recent talk in Hamilton was one on 'Forgeries, Frauds and Fakes' to the Waikato, Tauranga and Whakatane Philatelic Societies combined meeting in 2017.  These talks have been extremely popular and there have been strong contingents of collectors from other clubs in attendance at them."
GRAHAM I ROBERTSON – Award of Merit
Graham was nominated by the Auckland Philatelic Society.  Their nomination was supported by the following statements.
"Graham is a valued and respected philatelist, very generous in sharing his knowledge and has been a popular speaker to clubs around Auckland over more than 20 years.
"He has amassed significant collections with a real focus on NZ franking machine cancels.  His entry at Upper Hutt 2013 obtained felicitations for research and was recognised as the best entry there on a NZ subject.
"Graham is one NZ's premier researchers with his efforts having a number of firsts.  This included his discovery of the mechanism for producing NZ's 19th Century embossed revenue stamps which were unproven until he located the mechanism and detail in his search of the NZ Archives.
"Graham has contributed to the running of the Postal History Society of NZ in a number of roles including exchange superintendent (1976-80); secretary (1980-87); publications officer (2006 to date); edited their journal Mail Coach (1997-2003); and, been on the journal's editorial committee since 2006.
"Graham has perhaps made his most significant contribution to NZ philately through his research and subsequent publication across a wide range of topics.  His bibliography covers no fewer than twelve books which he has authored or co-authored; contributions of chapters in several volumes of the Royal's Postage Stamps on New Zealand; and, numerous articles in Mail Coach.
"He has been recognised by his peers with the Collins Award (literature) from the Royal (2001), fellowship of the Royal (2007), life membership of the Postal History Society (2008); and the Frank Watters Memorial Award, Taranaki Philatelic Society (2012)."
STEPHEN JONES – Award of Merit
The Christchurch Philatelic Society nominated Stephen for his award.  In doing so they somehow extracted from Stephen a philatelic biography (they seem very skilled at coercing Stephen – see later) and the details formed the basis of his award.
"My earliest connection with collecting stamps dates back to a 1963 Health FDC that was sent to me by my sister (and which I still have).  I continued collecting through my teen years although, as I grew older, I did stray from the path due to other teenage interests.  I became a member of the Upper Hutt Philatelic Society and was one of the youngest members at the time and still remain so!  After an extensive ten years OE I became an UHPS committee member, was secretary for a period and briefly Exchange Circuit Manager.
"I am a member of the Royal; Postal History Society; Hutt Valley; Christchurch; NZ Stamp Collectors' Club; both the Australasian and United Kingdom Perfin Clubs; and, the NZ Postcard Society.  I was also secretary for the NZ National Exhibition Welpex 2003.
"In the early 2000s I published a catalogue for NZ Health FDCs followed by another covering FDCs for all other issues.  These were well received and revitalised interest in collecting FDCs.  I have since written 27 newsletters giving updates for new material that has come to light.  On 2014 I was coerced into taking on the role of the Captain Coqk the Christchurch Philatelic Society newsletter.  I was given the assurance it would just be a matter of "reformatting the submitted articles".  While this hasn't entirely been the case I've found the role to be very enjoyable.  In early 2017 I took on the role of Publications Officer for the Royal.
"In 2010 I was invited to become a member of the Royal's expertising committee.  This invitation meant a great deal to me; the recognition of highly regarded fellow collectors and to be able to contribute to the expertising process.
"My current interests cover a broad range which has resulted in a more eclectic collection, something which is not conducive to exhibiting, but I enjoy giving talks and displays at club level."
ALAN HOLLOWS – Award for Service
Alan's nomination came from the Wellington Philatelic Society who described his contributions to the hobby as follows.
"Alan Hollows began working for NZ Post early in 1977 and has spent the majority of his career in the stamps and collectables business.  Throughout his over 40 years with NZ Post he has been involved in the design, production and procurement of postage stamps, and has developed an extensive knowledge base of stamps and collectables. In his time he has designed multiple stamp issues, first day covers and date stamps, as well as managing the production of the annual album.
"Alan has always been a strong advocate for philately.  Through his designs and his contribution to New Zealand Post's stamp programme, he always has the needs of the philatelist in mind.  He has represented New Zealand Post at stamp exhibitions in New Zealand and around the world.
"While this may be seen primarily as the essential nature of his job Alan has developed strong relationships with collectors and regularly presents at philatelic clubs and societies.
"He has been the NZ Post representative on a number of stamp exhibition organising committees where he has been very supportive of the committee and has contributed through NZ Post representatives who have been associated with other exhibition committees.  Of particular note for this society he provided important support in many ways in their running of the Capital Stamp Show 2015."
Bob, in presenting the award, commented that Alan over his time with NZ Post, would no doubt have received lots of criticism about what NZ Post was doing or not doing and praise for his efforts was rare by comparison.  This award, Bob hoped, would go some way to properly reflecting the contribution to the hobby Alan has made and the thanks of the philatelic community for that.
JOHN MOWBRAY – Award for Service
John's nomination came from the Kapiti Philatelic Society and they described John's contributions to the hobby as follows:
"John has been a stamp dealer for over 52 years and was a founder member of the NZ Stamp Dealers' Association in 1969.  He has held nearly 500 postal auctions and over 50 public auctions – helping collectors add to their collections and providing opportunities to sell.
"Between 1990 and 1992 John was the President of the International Federation of Stamp Dealers.
"He has sponsored philatelic events at local, regional and national levels.  John has been an attendee or stand holder at local, national and international stamp shows.  He has been the dealers' representative on a number of New Zealand exhibition organising committees where his business acumen and support of the hobby has been welcomed.
"John has often appeared in the media advertising not only his business but the hobby at large.
"He is long-time Patron of the Kapiti Philatelic Society and over the years has spoken at most New Zealand philatelic societies."
Bob, in presenting the award, commented that he had received a lot of help from John in a number of different ways.  John's contribution to the recent Federation strategy survey was particularly welcomed and while we may not agree with everything said the issues raised had to be taken seriously having come from a person with wide experience and knowledge that cannot be ignored.
Learning opportunities
PHILATELIC EDUCATION/TRAINING COURSES
Responses Federation received from its Strategic Review Questionnaire showed a lot of support for a strong education drive on philatelic issues.  It was  evident this should cover a wide range of philatelic matters and provide not only for individuals who belong to one or other of our clubs but also for members of the public even if they may never become a club member.
As a consequence Federation decided it would seek further ideas on this issue from its members and others.  A questionnaire (one respondent suggested this will be remembered as the "year of the questionnaire") was forwarded to members, individuals and posted on the Federation's website.  Seventy-five replies were received which was a good response.
At its July meeting the executive considered an analysis of the responses.  This provided some useful indicators of where Federation might place its education/training priorities.  The executive discussed the results and a number of actions are to be carried out in the next few months.  This will see the development of a plan that will be reported at the 2017 AGM.
Club news
ASHBURTON CLUB
At the last meeting of Federation a letter from the Ashburton Philatelic Society was received.  Their membership has been very low for a number of years and efforts have been made to increase these numbers without success.  Their secretary advised that with the membership down to three they had decided to disband and advised they were consequently resigning from Federation.
This resignation was accepted with regret.
VISITS TO CLUBS BY NZPF EXECUTIVE
At the July meeting the executive was asked to detail which clubs/societies they have visited since the beginning of 2017 to show how well they are meeting their suggested target of every club being visited by a member of Federation at least once every two years.
A number of clubs do not have regular meetings (Air Mail Society, NZ Postcard Society, Thematic Association, Association of NZ Philatelic Judges and PYC) while for others attendance by an NZPF executive member at a meeting would not normally be appropriate (Zeapex Trust, Central Districts Trust, Canpex and Association of Northern Philatelic Societies).  With the recent loss of Ashburton this means 28 clubs/societies is the target.  Nearly half (13 or 46%) of the target clubs had been visited and four more have since had a visit meaning 17 (or over 60%) have been visited and at least two more clubs have been programmed for a visit before the end of the year.
While this was considered a good achievement the executive are to look at those clubs yet scheduled for a visit and see if one can be arranged.  The executive members who have visited clubs report positive feedback from the society members and it appears the visits are worthwhile.
WANGANUI PHILATELIC SOCIETY – Stamp Fair August
On 12 August the society hosted the Annual Stamp & Coin Fair.  By all accounts it was a good day and the society managed to get Page 2 coverage in the Wanganui Chronicle the following Monday.
WHANGAREI PHILATELIC SOCIETY – KERI KERI COMBINED MEETING
Monica Comrie reported on the annual Far-North joint club meeting held this year in Keri Keri.
"Many thanks must go to the Keri Keri Club and in particular Enid Honiss for a most enjoyable and relaxing day.  The Golf Club was an extremely pleasant and comfortable venue and the catering was excellent.
"The sales table seemed to be doing a good trade with some interesting items on it and the same related to the auction which ran extremely smoothly.  Earl Howe was busy all day and it was good to see several non-club members attending.  There was a display on Honey and a humorous postcard display on Sheep which produced a good many laughs. The two speakers were extremely interesting.
"Barbara's talk on Pitcairn included the very early history (we all learned something); how the present population developed; their life style; a little bit about their economic situation; and, how it developed and then declined through the visits of the cruise ships.  We got a better understanding of their lifestyle and loyalty to the island although many of the younger generation come to NZ for their education and frequently do not return.  It was amazing how many present had actually been to Pitcairn; close to it; or, associated with someone from the island.
"Sandy Johnston's talk on Chocolate reminded us how it is a weakness for so many of us.  The Aztecs enjoyed their chocolate drinks but without the sweeteners we use now.  The Cocoa Association was formed with particular emphasis on the abolition of slavery particularly of children who were used in the harvesting of the cocoa beans.  We followed the process of harvesting through to the final product; a brief description of some of the more famous chocolate producing companies; uses of chocolate including gifts; and, as a source of energy particularly during WWII; for famous aviators Alcock and Brown; and, by Sir Edmund Hilary who took it to the South Pole."
AUCKLAND PHILATELIC SOCIETY – ANNUAL SHOW
The secretary of Auckland philatelic Society, Tane McManus, reported:
"The annual show was a massive success compared to last year.  It was a Saturday only function with opening one hour later which gave the ten dealers a chance to set up and prepare for customers.  The NIPEX 2017 competitive exhibition drew a disappointing number of entries
[see below].
"Organisation this year was more focussed and in addition to the usual ads in the Herald we got advertising in the Coffee News, suburban papers and the Chinese media.  A flier drop using the NZSDA mail-out list would also have helped."
"Foot traffic showed a greatly increased number of visitors showing a nearly 100% improvement on last year.  Overall it was a wonderful show and a great day was had by all."
MARLBOROUGH STAMP COLLECTORS' CLUB
The Marlborough Stamp Collectors' Club has its new building in place and being used.  The official opening will take place on Saturday 30 September.  The club has really achieved a lot over the last months but there are still some finishing touches required and some further fund raising.
| | |
| --- | --- |
| | Societies and clubs will have received publicity relating to a CAL the Marlborough club is using to raise some of the required funds.  It will be released onto the market on the opening day 30 September.  The CAL will be available in gummed and self-adhesive versions with singles, blocks of four and one single sheet (50 CALs) of each version.  These sheets have been open to bids.  A limited range of items signed by the designer is also available. |
Enquiries about the CALs should be sent to grantclifford@xtra.co.nz
PHILATELIC YOUTH COUNCIL – Annual Youth Camp
The PYC Stamp Camp was held from the 9 – 15 July at the Air Training Corps training facility at Ardmore, south of Auckland.  Twelve youth campers attended and one adult camper with all completing their camp projects. Youth Camp continues to be the PYC's flagship event and ensures youth exhibiting remains strong.
Over the course of the 6 days we spent at stamp camp, the campers went on two trips around Auckland.  On the first, they visited the Auckland Mail Centre.
The winners from camp were:
Rob Hunt Trophy – Marcus Haughan
Val & John Hunt Award – Rose Mc Taggart
Iris & Geoff Tyson Award – Annalise Smith
Best 8-Page – Marcus Haughan
Best 16-Page – Timothy Brown
Best Multi-frame exhibit – Lachlan Smith
Best Duty Team – The Order of the Phoenix
Best Duty Team Leader – Lachlan Smith
Papatoetoe Lions Leadership Prize – Amy Rosenfeldt
1st time Camper Awards – Timothy Brown, Olivia Cheng
Good support for the camp was received from local societies with financial support, speakers and assistance with activities.  The financial support from societies in Wellington and Christchurch assisted campers from around the country to attend.  The support of the camp leaders and other volunteers is also very much appreciated and is another area that enables the camps to continue.
At camp Amy Rosenfeldt was awarded her Gold PYC Achievement award.  These awards have been going since 1986 and Amy was the 19th person to achieve the gold level.  Congratulations Amy!
Information for exhibitors
LOCAL, REGIONAL AND INTER-CLUB COMPETITIONS
NIPEX 2017 – 50 Years of Decimal Currency, Auckland – 10 June
The second competitive exhibition to be run in conjunction with Auckland Philatelic Society's Annual Exhibition was held on 10 June.  Entries were invited from all North Island clubs and societies.  Generous prizes were on offer from David Holmes of Auckland City Stamps and Len Jury.  Tane McManus reported on NIPEX as follows:
"Overall, participation was disappointing with only 19 entries.  However, the quality of entries was high with the judging team of Barry Scott, Robert Livingston and Tim Beach assigning levels between Silver and Vermeil.  Best in show went to the Youth winner Amy Rosenfeldt whose display Cats in Philately, based on T S Eliot's poems, was the clear winner.  Other big winners on the day included Monica Comrie; Bruce Webber; and, of particular note, the adult development winner Christine Anderson.
"The theme of the show was Fifty Years of Decimal Currency".  The theme was supported by displays of New Zealand and territorials stamps of 1967; a selection of newspaper articles from the time; a display of revenue stamps and decimal and pre-decimal coins."
New Zealand Inter-club One-frame Competition, Palmerston North – 24 June
Hosted by last year's winner Manawatu Philatelic Society, the entries for this year's competition were on display at the Palmerston North Leisure Centre (the same venue as the Annual Stamp Expo [Convention]).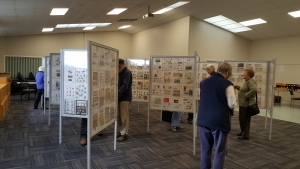 A number of invited displays were also on show including one which had reputedly the world's largest stamp.  This was used in an extensive publicity effort.  Several local dealers, critiques at the frames from the judges who were in attendance, two short philatelic talks and a session for beginner collectors/exhibitors made for an interesting day's activity.  A good number of locals and some from further afield – Hastings, Hawkes Bay, Taranaki and Wellington area – meant there were a good number of visitors to the event.
There were nine society entries and the results were as follows:
Marlborough Stamp Collectors' Club       378 pts
Upper Hutt Stamp Club                                 369
Wanganui Philatelic Society                         365
Christchurch Philatelic Society                    358
NZ Stamp Collectors' Club                            355
Manawatu Philatelic Society                       355
Kapiti Philatelic Society                                  346
Hawkes Bay Philatelic Society                     321
Hastings Stamp Collectors' Club                 302
Congratulations to all the entrants but particularly the winner, Marlborough Stamp Collectors' Club.  We look forward to their hosting the competition in 2018.
Later exhibitions
In October the regular annual exhibitions organised by the North Shore and Waikato Philatelic Societies will be held as follows.
North Shore Exhibition: 7 October
Waikato Ambury Shield: 28 October
For these and other philatelic activities check the NZPF website at https://nzpf.org.nz/whats-on/
If you want your activity to be listed or information currently on the website to be updated or corrected please contact webmaster@nzpf.org.nz
NATIONAL AND INTERNATIONAL EXHIBITIONS
The following are the exhibitions for 2017:
Stampex 2017, http://apf.org.au/sa/adelaide-stampex-17/ Australian Half-National, 6-8 October, Adelaide, Commissioners Sue Claridge (Christchurch) and Denys Rosenfeldt (Auckland).
Brasilia 2017 www.stampbrasilia2017.net.br/ , FIP, 24-29 Oct 2017, Commissioner Lindsay Chitty
Royalpex 2017 nzpf.org.nz/exhibitions/royalpex-2017 , NZ Specialised National, 24-26 Nov 2017, Te Rapa, Hamilton
Stampex 2017, Adelaide and Royalpex 2017, Hamilton each provide a limited range of classes but between them all FIP and National (both Australian and New Zealand) classes are covered.
Exhibitions notified for 2018 are as follows:
Canberra 2018 http://canberrastamps.org/canberra-2018/ Australian half-National 16-18 March 2018, Commissioner Josh Black
Newcastle 2018 http://newcastlephilatelicsociety.org.au/2018-newcastle-stamp-and-coin-expo/ Australian half-National 25-27 May 2018, Commissioner Mark Benvie
Praga 2018 praga2018.cz , Specialised FIP (Trad, Post H, Modern, Open and 1-frame), 15-18 August 2018, Commissioner Barry Scott
The Armistice Stamp Show http://armisticestampshow.com NZ National, 9-11 November 2018, Dunedin
Thailand 2018 is to replace the previously advertised Malaysia 2018 exhibition but we are awaiting further details.  This will be an FIP exhibition including FIP Congress
Exhibition reports
MELBOURNE 2017
Tony Thackery, the NZ Commissioner to Melbourne 2017 reported as follows:
| | |
| --- | --- |
| | "This FIAP exhibition was held at Caulfield Racecourse no more than 30 minutes away by train from Docklands Melbourne where the official hotel was.  The days are gone where stamp exhibitions can be held in downtown Melbourne but the venue was a very pleasant place to hold the exhibition.  It was enhanced with a display of Holden motor vehicles of by gone years parked by the front of the entrance. |
"The exhibition was well attended if the queues outside the venue every morning are anything to go by.  The only criticism I have is that the upstairs area where the exhibition frames were situated was a little cramped with the frames being placed a little too close together.  The lighting was not the best in places.  There were over 1,100 frames on display that included non-competitive exhibits from the members of the Royal Philatelic Society of Victoria that was celebrating its 125th anniversary.  The non-competitive exhibits were designed to encourage collectors to exhibit who would not normally do so.  Perhaps that might be something that New Zealand exhibitions in future might consider.  I do not know if it was result of that innovation but I was pleasantly surprised by the number of members of the public looking at the frames throughout the exhibition.  All too often the crowds are gathered around the dealers while the frames of stamps are ignored throughout at other exhibitions.
"I took 58 frames of exhibits.  The exhibitors may have hoped to have achieved higher medals but generally their marks were not too different to those gained at Christchurch only a few months earlier
"Congratulations to Lachlan Smith who won a special prize for his entry Gold in the Youth 16-18 age group and to Frank Jans who won a special prize for his entry New Zealand Fund Raising Events 1903-1921.
"The Palmares was held at the Melbourne Aquarium.  We were literally seated by large tanks in which all manner of fish including the odd shark were in – just swimming by as we enjoyed the evening.
"The exhibition was well organised and the organisers must be congratulated.  The hosts were certainly friendly and helpful throughout making sure we all knew where to be and where to go.
"Being an international Asian exhibition most of the judges, commissioners and exhibitors were obviously Asian and that certainly gave the exhibition that international feel.
"I would like to thank all of the New Zealand exhibitors for participating and if any of them are disappointed at their medals I hope they will rally themselves, work on their exhibits and try again.  I thank the fellow jurors for teaching me so much as well as all those who helped in one way or the other.  I thank my wife for all her help that included communicating in mandarin with some commissioners when an issue arose at the end of the exhibition between them and the organisers.
"The New Zealand results were as follows:
Conor Smith 1fr Antarctica Youth A 82
Frank Jans 1fr NZ Fund Raising Social Events 1903-1921 1 frame 95 SP
George Stewart 5fr Southern Rhodesia KGVI Definitive: The King's Head Design Trad 80 V
Graham Robertson 5fr Franking machines in NZ 1904-1922 Post H 81 V
Jeffrey Simpson 5fr NZ The Magpie Moth 1970-1973 Trad 78 LS
John Paston 5fr The Suez Canal Open 82
Kenneth Markham 5fr NZ from Discovery to Depression Open 83
Lachlan Smith 3 Gold Youth B 82 SP
Lindsay Chitty 5fr The NZ First Pictorial Issue 1898 Trad 85 LV
Lindsay Chitty 8fr POW Correspondence, Japanese Occupation of Far East WWII 1942-45 Post H 88 LV
Michael Christensen 5fr Tin Can Island Open 71 S
Nilo Dizon 3fr 3-Dimensional Lenticular Motion Stamps Modern, Trad 70 S
Patricia Capill 5fr Barbados-The George V Line Engraved Definitive Issues Trad 82
Ross Marshall Poland Postage Due Plate of the 2-value of 1919 1 frame 82
Stephen Chivers 1fr NZ 1997 Christmas 1 frame 88
"I thank the NZPF for appointing me as Commissioner and supporting my appointment as apprentice juror.  NZPF also assisted in arranging for Stephen Chivers to be appointed Assistant Commissioner to fulfil those duties of mine that arose while I was on jury duty.  I thank Stephen for his help and advice throughout.  He was not called upon by the expert committee to make any of our exhibits open for inspection.  I also thank New Zealand Post for supplying gifts to be given to the other judges and commissioners."
FINLANDIA 2017
A European Stamp Exhibition, Finlandia 2017 was held in Tampere 24-28 May 2017.  The main theme of the event was the 100th anniversary of the Independence of the Republic of Finland (1917–2017) and it formed part of the 'Finland 100' celebration program.

Normally such events do not involve New Zealand participation.  However, four New Zealanders did enter and what a result!  Their results were as follows:
Jeff Long 8fr W T Wilson Photographer and Postcard Manufacturer, Auckland, New Zealand Postcards 91 G
Jenny Banfield 8fr Medicine – Its History and Development Open 95 LG
Jenny Long 8fr A Study of New Zealand Picture Postcards Postcards 91 G
Norman Banfield 8fr Russia – Censorship of Mail 1878-1920 Post H 90 G
Not only did they all get 90 or more but both Jenny Banfield and Jenny Long received special prizes for treatment while Jeff received a special prize for research.  This was a noteworthy result and they deserve our congratulations.
What was also notable was the fact they were husband and wife entries; Jenny Banfield's Large Gold was for what could be classed as a 'real' Open exhibit (i.e. the type of Open exhibit expected of our New Zealand exhibitors with a balanced, wide range of philatelic and non-philatelic material properly written up); and, Jeff and Jenny Longs' awards were for Postcards.
This exhibition was the first international where postcards were accepted.  The postcard exhibits on display were such that it appears FIP is seriously considering the inclusion of this class in other future exhibitions.  They asked Jeff Long to present a seminar on postcards at the Bandung 2017 FIP exhibition and I am sure we will hear more about developments in this area.
Upcoming newsletters
If you would like to receive notification when the next newsletter is published please complete the registration form.