Stephen says –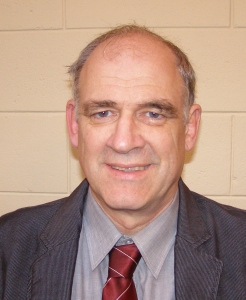 Having now been able to travel offshore, I was fortunate enough to be able to fulfil my duties as Commissioner at CAPEX 2022 9 – 12 June in Toronto, Canada. Refer to my report later in the newsletter.
Global Supply Chain
Air carriers are now setting dates for their return to New Zealand skies, but with increased costs needing to be recovered, this has impacted the price of postage with international outbound letters and parcels increasing from 1 July – https://www.nzpost.co.nz/about-us/july2022#international-outbound
The number of countries the New Zealand Post is unable to provide service to, or receive from continues to decline – https://www.nzpost.co.nz/contact-support/international-delivery-updates#sending and https://www.nzpost.co.nz/contact-support/international-delivery-updates#receiving
NZPF Awards 2022
Unfortunately, by the time nominations were due – 30 June – we had not received any nominations.  We are sure there are people out there who justify an award and we want to ensure we recognise them.  As a result, the executive has agreed to extend the nomination period.  The closing date for submissions of nominations for Federation awards for 2022 is now 31 October 2022. The criteria for the various awards presented by Federation can be found on the NZPF website as well as   nomination forms.  Check https://nzpf.org.nz/about-us/philatelic-awards/
Federation Meetings
The 74th Annual General Meeting is due to take place at WPS100 on Saturday 12 November, with an Executive Meeting taking place by ZOOM on the following Saturday 19 November. If you have anything that you would like raised, please contact your regional delegate or myself at the email address below.
I can be contacted by email at any time —president@nzpf.org.nz
Stephen Chivers, President
Incorporated Societies Act
Further to the December 2021 newsletter, The Incorporated Societies Bill, which is designed "to put a modern framework of basic legal, governance, and accountability obligations for incorporated societies and those who run them" was signed into law on 5 April 2022.
With the 2022 Act coming into force, all existing incorporated societies will be required to re-register with the registrar of Incorporated Societies by 1 December 2025.
Applications for re-registration must be accompanied by a copy of the incorporated society's constitution, and such constitution must be compliant with the requirements set out in the 2022 Act.
There are more than 20 societies and clubs who are members of Federation that are incorporated societies. They will all be impacted by this Act. Federation will release a sheet to societies before the end of the calendar year highlighting the changes to the 2022 Act.
In the meantime, here is a link to the new Act – https://www.legislation.govt.nz/act/public/2022/0012/latest/LMS100809.html
NZPF Website
Thanks to those societies who have provided details of changes to their 2022 programmes – these have all been added to the website. Any additional details or changes can be sent by email to the webmaster@nzpf.org.nz
Club News
The following are summarised reports presented to the Federation meeting in July 2022 by the regional delegates.
Philatelic Judges New Zealand
An AGM was held electronically on 9 April and this resulted in a change of name.  The Incorporated Society is now known as Philatelic Judges New Zealand, previously the Association of New Zealand Philatelic Judges.
A judges' seminar is to be held 1-2 October in Auckland.
Northern Region
Auckland Philatelic Society– meetings have been held at a temporary venue with 23+ attending.
The Centennial Year exhibition had a theme of "100" and attracted 21 entries.  Awards were presented based on popular votes from the public.  Five dealers attended. The society is working towards putting an entry into the i4mbury Shield Competition.
The exhibition was the opportunity for the NZPF to present their congratulations to the society on attaining their centenary.  This was presented by Northern Region Delegate, Denise Rosenfeldt to president elect, John Powell.
Recent sales afternoons which included two significant collections resulted in record turnovers achieved.
A complete review of the society rules has been done to maintain its tax exemption status, reflect current society requirements and legal terminologies.
Suburban Stamp Club has used an alternative temporary venue.  Steady attendances despite Covid19 have been achieved, with a reshuffle of the programme due to speakers being unavailable.  Recent talks have been on Indian Ocean Islands and the designs of James Berry.
South Auckland Philatelic Society a small keen membership is attending.  Dealer Nu Stamps is a popular attraction.  Talks have been on The Melanesian Mission and Greece.
Whangarel Philatelic Society one-page entries are being brought by members each meeting.  Fifteen have been attending the daytime meetings.  The May Stamp Fair had a lower attendance than expected with Covid19.  Three dealers went away satisfied.  Great refreshments and raffles were a feature, as well as the displays.  Members met for an enjoyable dinner at a Korean restaurant in the evening.
This was followed by the Northern Combined Meeting in June with guest speakers Norman and Jenny Banfield from Kapiti.
North Shore Philatelic Society participated in a school holiday programme at a local shopping mall (see report under Youth below).
City of Sails Youth have two very keen exhibitors who are now starting on new topics of NZ Bird Conservation and Sea Life.  Workshops are held at meetings on collecting, care of stamps, exhibiting and researching-
Waikato Philatelic Society won this year's annual Battle of the Hills vs North Shore Philatelic Society.  One meeting has been cancelled due to Covid19 among members.  An ex-youth club member is keen to join.  The Ambury Shield Day Competition is scheduled for 29 October 2022.
Howick Philatelic Society had its first meeting since July 2021 in April.  Talks have been on Evolution of the Warship and Letters from the 17th Century.  The club has a one-page competition with three different topics each month.  Points are accumulated and the competition has good participation. The position of president is currently vacant.  Contact person is Trevor Rogerson, bontree@orcon.net.nz
Central Districts
Hawkes Bay Philatelic Society was to hold its AGM on 1 August.  The society is in good spirits and the Gannet continues to be a well-produced and published magazine with not only club news but interesting articles
Manawatu Philatelic Society has a celebratory Centenary Dinner planned for 17 September.  Their upcoming Central Districts Stamp, Coin and Postcard Expo is still on for the 15 October, will include the NZ Inter-club One-frame Competition and the annual meeting of Central District's philatelic societies.
Upper Hutt Stamp Club continues to get a steady showing of 11 members to meetings which is pleasing.  June saw Stephen Chivers judging the club competitions for 4-, 8- and 16-page entries with 11 entries submitted.
Hutt Valley Philatelic Society has settled into its new premise, and this seems to be suitable for members' nights. Overall monthly attendance is good.
Wellington Philatelic Society continue at pace with WPS100 Stamp Show organisation.  Wellington Philatelic Society- The First 100 Years published to celebrate the centenary of the society is available in limited numbers at https://wps100.nz/product-category/product/  At $40 this 152 page book is great value.
South Island
It has been a fairly steady year for the Marlborough Stamp Collectors' Club with its normal monthly meetings and programme with covid still rippling through the country, but they have remained relatively normal for these times with good turnouts at meetings.  Visiting speakers included Stephen Chivers and Jenny Banfield.  Their 50th Anniversary celebration is fast approaching in August, and it will be celebrated with the Annual Nelson/Marlborough get together which has been unable to proceed for the last 2 years.  The Club has reproduced three personalised stamps as a fund raiser for
the event.
The Nelson Philatelic Society is going well and has settled into its new premises with good numbers attending meetings.  Their main priority has been securing a suitable storage container for their refurbished frames as they have been given permission to store a container onsite.  They are conveniently located next to Macashins brewery and restaurant. They have also been looking at their society constitution to conform with the new legislation.
Despite mid-winter weather 'bombs' meetings continue throughout the region.  The Canpex AGM will be held in early August and the Philatelic Foundation is having some catch up general meetings to facilitate reincorporation process this month.
The New Zealand Stamp Collectors Club continues to have both good attendance at their Mandeville Street meetings, as well as the Rangiora Day-time meetings that attracts 17+ attendees who share a pub lunch before their meeting at 1pm on a Friday once a month.  At a recent meeting Karen Jeffrey gave an excellent talk and display from her Royalty collection to coincide with the Queens platinum celebrations.
The Christchurch Philatelic Society had a 'traditional' night recently with good attendance to hear John Martin speak on his 1935 Pictorial issues that includes a sub -study of the 3/- value and an amazing range of postal history-something for all attendees to enjoy.  A splendid night for everyone.
NZPF delegate, Sue Claridge travelled to Timaru in mid-July to attend the Timaru Philatelic Society's AGM and gave a short talk and some displays at the conclusion of their meeting.  A good attendance, with two new members, it was a real pleasure for her to get to the meeting as well as offering a belated birthday wish to Ray Bennett on reaching his 90th year.  She said to him 'I look forward to coming down for your 100th year celebration!'
Additionally, there have been visits with talks and displays at a local genealogy group by Sue with further trips planned to Dunedin and Southland societies, later this year or early 2023.
No luck, to date with promotional activities planned in several suburban libraries to promote the hobby from an adult and children's perspective.  However, we will keep persisting with this in the hope they will go ahead later in the year.
Stamp Fairs continue to be productive with good attendance and we are pleased to welcome back Paul Wales to Christchurch.  A new stamp and book shop will be opened soon by Neville King in the Warrington shopping complex, which means there will be three dealers plus several part-time ones in town – not as many as the 80s but still an improvement.
The annual Postcard Society of NZ convention will be held in Christchurch on 10 and 11 September and it is anticipated there will be a good attendance bearing in mind the last few have been cancelled due to covid restrictions.  The programme looks exciting and it should be a great weekend.
Youth
Sue Claridge, NZPF delegate on the FIP Youth Commission recently attended a Youth Commission Zoom meeting commencing at 01:00am NZ time to cater for the ten global participants.
The main discussion was centred around the approval of "GUIDELINES FOR THE ASSEMBLY AND EVALUATION OF YOUTH EXHIBITS THEMATIC and TRADITIONAL REQUIREMENTS FOR EACH OF THE AGE GROUPS".  The prepared documents were approved for forwarding to the FIP for congress approval.
On setting up a commission website, no delegates were able to provide a suggestion for a webmaster, so delegates were asked to see if there was anyone in their country who would be interested with the suitable IT skills.  Is there anyone interested?  Please contact secretary@nzpf.org.nz
NZPF Youth Coordinator –
Tim Beach reported most youth clubs are continuing to struggle to attract members, with Covid not assisting the situation. Numbers at all three of the member youth clubs are low. The Pukekohe Stamp Club has 47 youth members.  These are mainly grandkids of the adult club members, so it is hard to indicate actual interest.
The North Shore Philatelic Society, in conjunction with City of Sails Youth Stamp Club, ran two days of holiday programme on 18 and 19 July at the Glenfield Mall.  The activities included basic stamp collecting knowledge (album types, hinging, etc.), craft activities (make a bookmark or gift tag, create a postcard and design a stamp) and 16 frames of display material.  All the activities were well received and over 150 youth participated in both the collecting and craft sides of the planned events.  The ages of the kids ranged from 2 to 14 and the parents were also encouraged to participate.
The good news is several of the participants have indicated   they would like to join a youth club.  In addition, some adults also indicated they would like to join an adult club.  It will be interesting to see how many progress to attend a club meeting.
The mall was very happy with our efforts and requested it be done again, so there is a booking for January 2023, over a weekend.
This could be something other societies could do also as it is very visual with the number of people attending the malls.  It is a great way to publicise and market stamp collecting.
NZ Post provided stamps to post the postcards (123 were posted), posters, marketing material and some prizes.  This support was appreciated.
Overseas Exhibition reports

Newcastle Stamp & Coin Expo (Australian Half National) 27-29 May 2022
Commissioner: Lindsay Chitty
There was a good lot of entries from New Zealand with 13 exhibits of 70 frames from 11 exhibitors. Bob Gibson had booked on the same flights and Auckland accommodation and was able to assist with the carrying of exhibits.
The venue was very suited for a Half National Stamp Exhibition.  There were 86 competitive exhibits with 430 frames. There 22 Large Gold and 11 Gold medals awarded. This was in part due to the fabulous material exhibited in the Royal and Postcard Challenges.
The following were the New Zealand results:
Jeff Long W. T. Wilson, Photographer & Postcard Publisher, Auckland, New Zealand 8fr, Postcard, 94pts LG
Jeff Simpson New Zealand – The Magpie Moth 1970 – 1973 8fr, Trad, 86pts G
Jenny Banfield Anthropomorphic Cats 6fr, Postcard, 80pts LV
Leigh Gravestock Wellington Airport at Rongotai 3fr, Open, 81pts LV
Martin Treadwell The Philately of the two New Hebrides 1942 – 1941: A story of two jurisdictions 8fr, Trad, 92pts LG
Monica Comrie Honey 5fr, Open, 88pts G
Monica Comrie The Happy Hen and her Partner the Arrogant Rooster 5fr, Open, 81pts LV
Paul McTaggart The Victoria Cross – Supreme Valour 5fr, Open, 90pts LG
Ross Marshall USA – USSR Scientist exchange programme in Antarctica 8fr, Polar, 92pts LG
Ross Marshall West Coast Coal Shipping 1fr, Postcard, 85pts G
Stephen Chivers Mandalay 1fr, Postcard, 81pts LV
Teresa Harry Operation Deep Freeze Picket Ships 8fr, Polar, 71pts S+Special prize
Tony Thackery New Zealand Letter Cards from Queen Victoria to King George V 5fr, PS, 78pts V
Lindsay reported:
"I would like to thank Bob Gibson who helped carry the exhibits to Australia in an unofficial capacity. He also helped with mounting, particularly after judging started.  I was unable to assist with dismounting because of my positive COVID test, and Bob handled the New Zealand exhibits. I had to carry the exhibits home because I was the Commissioner, and the paperwork was in my name.  Bob carried non-exhibit material home.
"I would like to thank the New Zealand exhibitors and congratulate them on their results. Thanks also to the New Zealand Philatelic Federation for selecting me as a Commissioner.
"Covid-19 turned out to be a nightmare. It was a requirement at the time that travellers leaving Australia for New Zealand had to pass a pre-travel supervised COVID RAT test within 24 hours of departure.  Bob Gibson and I were due travel Monday 30 May following the end of the exhibition and had arranged to be tested at a pharmacy on the Sunday prior to departure.  Although I was without symptoms, I failed my test, and had to isolate for 7 days before I could travel.  I arranged to stay at the Holiday Inn Hotel, and not able to leave my room for 7 days. The staff were good and delivered me sufficient food for breakfast and lunch. I had to have evening meals delivered to my room because the hotel didn't do evening meals.
"Fortunately, I passed my second COVID supervised test on the Sunday one week later.  Re-arranged travel including a hired vehicles from Newcastle, flight from Sydney via Christchurch rather than Auckland (no direct flight to Wellington at the time) and adjusted Customs forms."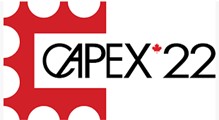 CAPEX 22 Toronto (FIP) 9-12 June 2022
Commissioner: Stephen Chivers
CAPEX 22 was an FIAF international exhibition, but as it had FIP recognition, other countries outside of the America's were also invited (approximately eight countries from Europe and six from Asia participated).
This was the first international one-frame exhibition with approximately 400 one-frames of excellent material.
I was helped by Stephen Jones to mount the NZ exhibits which didn't take long.  The Australian Commissioner was having hassles with his mounting, so Stephen and I assisted mounting the Australian exhibits.  When I went to the jury meeting Steve stayed on helping with the rest of the exhibition mounting.
The exhibition was held in the Metro Toronto Convention Centre (MTCC) in the heart of downtown Toronto next to the main railway station.  The venue was huge with many floors and several other shows going on at the same time.  There was a steady stream of visitors to the exhibition.
There were about 80 dealers and outside the main exhibition hall there was the Canada Post stand as well as the literature area and a number of society tables.  To keep the visitors entertained there were also about 65 seminars and meetings going on in two rooms.
At the first jury meeting a power point was shown, with a good discussion on one frame judging.  This will be one of the sessions at our next judging seminar as the approach was different from ours.
The results achieved by our New Zealand exhibitors were as follows:
Alastair Watson King George V 1½d Lettercards – Bock Dies I & II, New Zealand 1916-20 Post Sty, 87pts
Alastair Watson The Blue Whale Thematic, 66pts
Bob Gibson Berlin Stalinallee 1953-1961 DDR Traditional, 87pts
Jenny Banfield Japan – New Year Lottery Greeting Cards 1949-1965 Post Sty, 79pts
Lindsay Carswell The Early Post Office of Lyttelton Harbour Post History, 86pts
Lindsay Chitty The New Zealand Boer War Contingent Stamp and Postal Use Traditional, 79pts
Mark Benvie New Zealand Law Courts Revenue Stamps 1876-1882 Reenue, 93pts
Rick Oxenham Chile – The Airmails 1927-1937 Aero, 86pts
Rick Oxenham Motorcycle Courier Service CAM1 USA Aero, 82pts
Sinclair McLaren Dunedin Stamp & Postcard Club Website Literature, 77pts, LS
Tim Beach Eros in New Zealand Traditional, 74pts
New Zealanders didn't win any special prizes, but Jenny Banfield's entry was in the winning Team Competition.  The points in the team competition weren't just for the best scores but having the team members from five different countries helped.
There were a few other New Zealand related exhibits including two by Damian Läge of Switzerland both of which got 95 points (the highest level at the event).  His The Maori Pigeon received best in class (thematic) and was nominated for Grand Award but his The Pigeon Mail of Great Barrier Island (aerophilately) received the Grand Award.
During the Palmares, San Diego announced they plan holding an international one frame exhibition in 2027 so other countries may well get on board with one-frame exhibitions in future.

Indonesia 2022 (FIP) 4-9 Aug 2022
Commissioner – Norman Banfield
A full report will be provided in the next newsletter.
Results for New Zealanders were as follows:
Jenny Banfield Anthropomorphic Cats 5fr, Postcards, 85pts LV
Jenny Banfield Taxed from the Cradle to the Grave 7fr, Revenue, 91pts G + SP
John Paston The Suez Canal 8fr, Open, 91pts G
Lindsay Chitty Prisoner of War Correspondence, Japanese Occupation of the Far East WWII 1942-1945 8fr, PH, 90pts G
Michael Christensen Tin Can Mail Island 5fr, Open, 83pts V
Norman Banfield Russia – Postal Censorship WWII 5fr, PH, 88pts LV
Paul McTaggart The Victoria Cross – Supreme Valour 5fr Open 86pts LV
Rose McTaggart Birds Around NZ – from Coast to My Garden 2fr, Youth, 80pts V
Upcoming overseas exhibitions
Cape Town International Stamp Exhibition (FIP Specialised) 8-12 Nov 2022
NZPF Coordinator – David Loe. Seven New Zealand exhibits have been accepted.
For the latest information visit – https://capetown2022.org/
iBRA 2023 Essen, Germany (FIP) 25-28 May 2023
Commissioner: Stephen Chivers.  Visit – https://ibra2023.de/en/home-english/
Taipei 2023 40th Asian National Stamp Exhibition (FIAP) 11 – 15 August 2023
Commissioner: Mark Benvie.  Visit – https://taipei2023.post.gov.tw/post/taipei2020/Default.jsp
Perth 2023 National Stamp Exhibition (Australian National) 2-5 November 2023
Commissioner: to be appointed.  Visit https://www.perth2023stampshow.com/
Melbourne 2024 (FIAP) International Stamp Exhibition March/April 2024
Commissioner: Tim Beach.  Visit – https://melbourne2022.com.au/
Upcoming Exhibitions in New Zealand
WPS100 Stamp Show 11-13 Nov 2022
Te Rauparaha Arena, Porirua
New Zealand National Exhibition including the Australasian Challenge.  Entries have now closed and close to 600 frames of competitive exhibits and invited displays will be on show.
NZPF will be holding their 2022 AGM at the show.  There are several meeting rooms and a theatre at the venue where meetings can be held.  Does your society wish to hold a meeting there?  If so, please contact secretary@wps100.nz
For the latest information about the show visit – https://wps100.nz/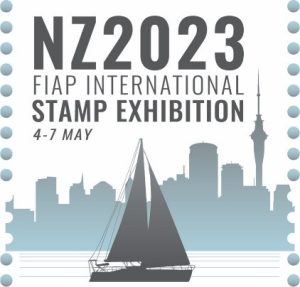 NZ2023 (FIAP) 4-7 May 2023
Ellerslie Event Centre, Auckland.
Held under the Patronage of the Federation of Inter-Asian Philately, this will be the first international exhibition held in New Zealand since NZ1990.  Over 1000 competitive exhibit frames from the Asian area, most never been in New Zealand before, will be on display.  Up to 40 trade and philatelic bureau stands will also be available.
Exhibit entries close on 21 November.  The exhibition rules (IREX) and exhibit entry forms can be found on their website https://nz2023.nz  Potential NZ exhibitors can contact the NZ Commissioner, Denise Rosenfeldt at nzcommissioner@nz2023.nz while for general enquiries about the exhibition please contact secretary@nz2023.nz
18th NZ National Philatelic Literature Exhibition 2023
The 18th National Philatelic Literature Exhibition organised by the Christchurch Philatelic Society is scheduled to be held in November 2023. Further details will be released shortly.
Auckland 2024
The Auckland Philatelic Society is intending to run a national exhibition in June 2024.  Dates and location are still to be confirmed.
Royalpex 2025
The Royal Philatelic Society of New Zealand is intending to hold a national exhibition in Feb/Mar 2025 in Palmerston North.  Dates and location are still to be confirmed.