Stephen says –
Here we are, three months of the year having gone already and our first quarterly executive meeting behind us.
The COVID journey carries us forward into 2022 and now with us operating under the traffic light system we have all had to adapt to further changes, as from 14 April with the changes to the Orange traffic light that we are operating under.
The key changes operating at Orange being –
• There is no requirement to scan in or for a business to display a QR code poster or have mandatory record keeping.
• You do not need to wear a face mask outdoors, other face mark rules remain unchanged.
All of the country is at Orange, so it is useful to be reminded of the Key points to keep ourselves safe – https://covid19.govt.nz/traffic-lights/life-at-orange/
Global Supply Chain
Despite plans for opening up the borders to international travel and an increase in flights, there are still some 40 countries where NZ Post is unable to provide service to – https://www.nzpost.co.nz/contactsupport/international-delivery-updates#sending, including Russia and Ukraine and almost the same number of countries not sending to New Zealand – https://www.nzpost.co.nz/contact-support/international-delivery-updatesUreceiving
Royalpex 2021
Even with the deferring of Royalpex 2021 until February 2022, COVID-19 still didn't play ball which led to the exhibition being held as a judging only event, closed to the public. New Zealand Post continued to provide their major sponsorship with the printing of the programme and supply of miniature sheets for souvenirs. Refer to the report later in the newsletter. A copy of their final newsletter No 4 is at https://drive.google.com/file/d/1K2eX5hxUAw5aOkxe799BPSP8H09g1Vc/view?usp=sharing
Federation Meetings
Unfortunately, the special meeting intended to be held in conjunction with Royalpex on 26 February didn't take place. Having recently had our first 2022 quarterly executive meeting by Zoom on 19 March 2021, the secretary will distribute the minutes at the same time as you receive this newsletter.
The next meeting is planned for July 23 so if you have anything that you would like raised, please contact your regional delegate or myself at the email address below.
WPS100
The dates for this have now changed, with the hope that international travel will be able to take place and we will have many international visitors able to attend. The new dates are Friday 11 to Sunday 13 November 2022. Refer to https://wps100.nz/ for further information
I can be contacted by email at any time — president@nzpf.org.nz
Stephen Chivers, President
Covid-19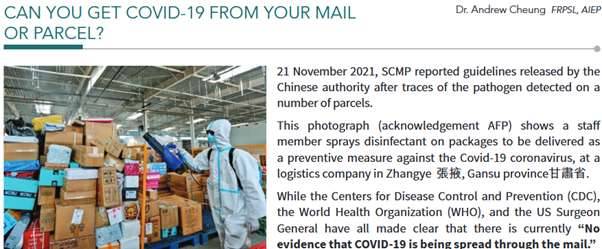 The club mentioned in the previous newsletter successfully met in both February and March, recording the "My Vaccine Pass" details of the members and visitors without any issues. Their landlord also allowed them to use a larger meeting area in the complex so they could space themselves out. Masks still had to be worn, other than by the speaker at the front. Some members have chosen not to attend the meetings but receive a full report by way of the club newsletter.
With the changes now in place from 25 March of no scanning, and from 4 April of no requirement to use a "My Vaccine Pass" the protection framework becomes more uniform for all residents and visitors.
An interesting article appeared in the February 2022 Issue of the Hong Kong Philatelic Society (HKPS) newsletter. With the permission of HKPS the article is partially reprinted at right. (SCMP = South China Morning Post)
NZPF Website
Thanks to those societies who have provided details of their 2022 programmes – these have all been added to the website. Any additional details or changes can be sent by email to the webmaster@nzpf.org.nz
Members with more than 20 'Hits' per month over the period 13/4/21 – 13/4/22
Member
'Hits'
Member
'Hits'
Waikato Philatelic Soc
501
Tauranga & District-Stamp Club
414
NZ Stamp Collectors Club
354
Wellington Philatelic Soc
353
Postal History Soc of NZ
273
Whangarei Philatelic Soc
273
Auckland Philatelic Soc
270
Manawatu Philatelic Soc
238
Members with 10-20 'hits' per month
Nelson Philatelic Soc
North Shore Philatelic Soc
Hawkes Bay Philatelic Soc
Christchurch Philatelic Soc
Hastings Stamp Collectors
Hutt Valley philatelic Soc
Philatelic Youth Council
Dunedin Philatelic Soc
South Auckland Philatelic Soc
Southland Philatelic Soc
Upper Hutt Stamp Club
Marlborough Stamp Collectors
Royal Philatelic Soc of NZ
Wanganui Philatelic Soc
Taranaki Philatelic Soc
Timaru Philatelic Soc
Members with less than 10 hits per month
Air Mail Society of NZ
Kapiti Philatelic Soc
Assoc Northern Philatelic Soc's
Horowhenau Philatelic Soc
Postcard Society NZ
Whakatane Philatelic Soc
Thematic Assoc of NZ
Suburban Philatelic Society
Thames Valley Philatelic Soc
NZ Society of Great Britain
Central District Philatelic Trust
Zeapex Philatelic trust
Assoc of NZ Philatelic Judges
Canpex
The above analysis relates to the one-year period between 13 April 2021 and 13 April 2022. At our executive committee meetings, the webmaster provides a report of activity on the website since the last meeting. It was suggested a summary of society activity could be usefully provided in this newsletter.
'Hits' on society pages always represent a high proportion of activity on the site. This was the prime reason for setting the site up in the first place and the data demonstrates it is achieving this purpose. It is in your club's interest to ensure the data is up-to-date and provides useful information about your club's activities.
List of Stamp Clubs
Thanks to New. Zealand Post, they now a have a direct link from their web page –
https://collectables.nzpost.co.nz/stamp-collectjng/ with "Joining a stamp club" to the NZPF webpage https://nzpf.org.nz/societies-clubs/
The current printable listing of New Zealand Societies and Clubs can be downloaded as a PDF. Currently this shows "v9 13 Feb 2022".
Club News
The following details are summarised from reports presented to the Federation meeting in March 2022 by the regional delegates and updated by the editor.
Northern Region
Overall Club meeting numbers were affected by Covid, however most clubs reported members have a reasonably positive outlook.
Auckland Philatelic Society — Meetings resumed in February 2022. Red Dot Sale numbers restricted due to Covid19, all but one lot sold. Council doing roof repairs on meeting venue between May-July, so an alternative venue is being sourced for meetings during that time.
Suburban Stamp Club — Meetings resumed in February 2022. Council doing roof repairs on meeting venue May-July, so an alternative venue is being sourced for meetings during that time.
South Auckland Philatelic Society – Meetings resumed in January 2022. Members are keen to continue meeting through pandemic. No Stamp Fair will be held this year due to the Covid situation.
Whangarei Philatelic Society – Meetings held in 2021 when Covid19 restrictions allowed, with 18 regular attendees. Kerikeri members visited in February. 2022 Programme includes visits from Auckland stamp dealers and speakers from outside the district and two stamp fairs.
North Shore Philatelic Society – Meetings resumed in February 2022. March 2022 Stamp Fair was cancelled due to unavailability of venue. The club has rejuvenated circuit books which are progressing well.
Waikato Philatelic Society – Good attendance at resumed meetings with Covid19 rules in place. No meetings had been held since September. A Christmas get together was able to go ahead. Dealer Alan Craig gave an interesting talk on the Wilcox Smith stamp dealership in Dunedin history and aspects of its personnel and practices. The annual joint club day has been postponed until later in the year. The Ambury Shield Day is scheduled for 29 October 2022. The One Frame Interclub Competition has been passed to Manawatu Philatelic Society who plan to hold this 15 October as part of their Expo. See https://nzpf.org.nz/wp-content/uploads/2022/03/Palmerston-North-Expo-2022.pdf
Howick Philatelic Society — No meetings have been held since July 2021. Meetings are scheduled to resume from March 2022.
Central Districts
It currently feels like every report is now starting with a new variant name of COVID that is rolling around.
Royalpex 2021 and WPS100 updates are covered in other parts of the newsletter.
The Central Districts Stamp, Coin and Postcard Expo hosted by the Manawatu Philatelic Society has also been postponed from their April timeframe to 15 October.
A scheduled visit to Hawkes Bay Philatelic Society early March became a casualty of rapidly rising COVID case numbers.
Hutt Valley PS are having to move premise as the current provider has given notice to the club it will need to move due to renovations being undertaken. A premise has been located in Lower Hutt but it remains to be seen how this will affect member numbers going forward.
A pre-publication order form is now out from the Wellington Philatelic Society for a book celebrating the first 100 years from the founding as the Donbank Philatelic Society in 1922 to its current form as the Wellington Philatelic Society in 2022. The publication is being authored by Sue Vernall and will consist of over 140 pages, A4 size profusely illustrated throughout.
Check https://wps100.nz/shop/wps-the-first-100-vears/ but you will need to order by 30 April 2022 to ensure a copy.
Other Societies and clubs are functioning and moving along.
Top of the South
The Nelson Marlborough region has been fairly quiet for the start of the year mainly due to the impact of Covid.
Nelson cancelled their March meeting because of peoples' uncertainties and still having to operate out of the church hall instead of the usual school hall.
Marlborough had a well-attended meeting in February to hear and see a talk on revenues used on documents.
Both clubs are hoping for a return to normal as Covid settles down and people can move more freely.
Rest of The South
Regular meetings have been occurring in the Christchurch Philatelic Centre since the beginning of the year although attendance is a little reduced. There seems to be some hesitancy by some members to come back out into the world!
The Christchurch Philatelic Society and NZ Stamp Collectors Club and the small sub-groups of postcard and postal history members, continue to meet in the Philatelic Centre. The children's group is not having any success in getting new members or indeed enticing old ones back, although local member, Tim Brown entered and did well in London.
There is a promotion planned in the local libraries to promote both the adult and children's clubs.
The Air Mail Society remains active and while not having a physical meeting on the premise, they continue to attract new members with a very low subscription and production of an excellent journal.
Trips are planned by the delegate to Timaru, Dunedin and Southland.
Inter-club Competitions
In reading through the various newsletters received by the regional delegates and the secretary it seems there are several "Inter-club" competitions run with a long history of friendly rivalry.
Mention of these latter two has been included as a footnote on the page – https://nzpf.org.nz/resources/clubactivities/meeting-programmes/philatelic-quiz/
The editor would be interested in adding to the list by recording other "inter-club" competitions, with quizzes and displays or a mixture of both, as these get people to venture out of their own area and strengthen the links between collectors.
Feel free to create an article and send it through to your regional delegate or secretarv@nzpf.org.nz
Newsletters
We are aware of the sharing of newsletters between societies and clubs, and I appreciate those sent to me as secretary, as well as those sent to your regional delegate. Do you keep copies of your old newsletters on a website, or cloud storage (such as Dropbox, Google Drive or Microsoft OneDrive as examples) as part of your club history?
Federation is currently considering how we store our archival records to ensure continuity when personnel change but also provide security of data should a PC glitch occur threatening the data held. While Federation doesn't currently offer a storage facility for societies or clubs it may do so in future. If anyone is interested in such a cloud storage service, please send an email to secretarv@nzpf.org.nz
Youth
The Youth Coordinator, Tim Beach, at the recent executive meeting, covered the following issues. Youth club numbers remain low and additional support is needed to gain members. Most youth clubs are struggling to attract members, with Covid not assisting the situation.
It was great to be able to report five of our youth collectors have achieved well at recent exhibitions. Tim Brown and Lauchlan Smith both received Large Vermeil medals at London 2022 (FIP). In addition, Rose McTaggart received a Large Vermeil in the national youth class and Emily and Lucy Muller achieving Silver and Silver Bronze in the youth development class at Royalpex 2021. Well done to these exhibitors.
Winding up of PYC
At the recent PYC AGM a proposal was presented suggesting PYC has run its course and it was time to wind the organisation up. It was felt its structure was no longer suitable for the current environment. A sub-committee of Paul McTaggart, Denise Rosenfeldt, Jeff Long and Tim Beach will, during the next period produce a recommendation for the PYC membership.
If you have thoughts about this issue, please contact PYC at https://www.pvcnz.org/contact.html or the NZPF secretary at secretarv@nzpg.org.nz
National and International Exhibitions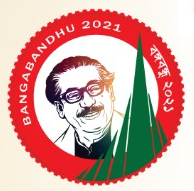 Bangabandhu 2021 (10 -30 Dec 2021)
[Commissioner Stephen Chivers /Judge Norman Banfield]
After the success of their 2020 virtual national exhibition, Bangladesh held this virtual exhibition with FIAP support.
New Zealand entered nine exhibits of 32 frames with the following awards —
Tim Beach 1960 Pictorials – New Zealand 8fr, LV, 89pt Trad
Mark Benvie The First Sideface Issue of New Zealand 1874-1882 5fr, LV, 89pt, Trad
Lindsay Chitty Civilian Internee Mail, Japanese Occupation of the Far East, WWII 1942-45 5fr, G, 90pt, P Hist
Stephen Chivers Leeward Islands Postal Stationery 5fr, LV, 88pt, Postal Sty
Stephen Chivers Niue Telegraphs 1fr, 81pt, One fr PH 2C
Michael Christensen Walter Quensell 'Tin Can Mail' Correspondent 1fr, 85pt, One fr Open
Brian G Vincent Rugby, New Zealand's National Game 5fr, V, 84pt, Postcards
Brian G Vincent Sikkim – The Rocket Mail Flights 1fr, 70 One fr Astro
Alastair Watson King George V 1½d Lettercards – Bock Dies I & II New Zealand 1916-20 1fr, 85pt, One fr PS
Emirates 2022, 19-23 January, Dubai
Commissioner Jenny Banfield /Judge Norman Banfield
The exhibition was held in the Exhibition Hall which was part of the EXPO 20 Dubai complex. There were 173 entries, over 600 frames plus 25 Literature. Four countries Commissioners were not able to travel. It was an interesting travel experience travelling under the COVID19 protocols of PCR tests and participating in the MIQ lottery process. Overall, a very time-consuming process compared to pre COVID
The results were as follows:
Monica Comrie Civil Censorship Process Australia WWII 8fr, G, 90pt, Post History
Lindsay Chitty British Commonwealth Prisoner of War Repatriation Mail, Japanese Occupation of Far East, WWII 1942-1946 5fr, LV, 88pt, Post History
Peter Tozer The Small 18c Australian Prestamped Envelope: A Preliminary Study 1fr 70pt Post Sty
Royalpex 2021
The community spread of Covid resulted in the committee deciding the exhibition could not go ahead and cancellation was proposed. The Australia Philatelic Federation asked if it were possible to judge entries where coloured photocopies had already been printed. The Royalpex 2021 committee believed it was viable to run a 'judges only' exhibition. All exhibitors were contacted and asked if they wished to withdraw, have their entry judged or have their entry transferred to WPS 100. As a result, 297 frames of entries remained to be judged. Some of these were copies of exhibits that were appearing almost simultaneously at London 2022. A reduced judging team was organised, and the event went ahead with the majority of exhibits supplied as coloured photocopies. The Royalpex 2021 jury were not aware of the results from London until after they had judged and the outcome was very gratifying.
The results can be found at https://nzaorg.nz/royalpex-2022-awards-list/
London 2022 (FIP) 19-26 Feb
Commissioner David Loe /Judge Robin Gwynn
What was originally a 2020 exhibition, finally went ahead in 2022. New Zealand had 16 exhibits comprising 63 frames and five literature entries accepted.
The results are described below.
Tim Brown Sure and Stedfast – The Story of the Boys' Brigade 3fr, LV, 85pt, Youth
Patricia (Pat) E Capill Barbados- The George V Line Engraved Definitive Issues 5fr, LV, 86pt, Traditional
Lindsay Chitty Picture Postcards of the King Country, New Zealand 5fr, LV, 88pt, Postcards
Grant Clifford The New Zealand Chalon Issues 1855-1873 5fr, G, 90pt, Traditional
David Loe The Postal History of the Allied Forces in Iceland in World War II 8fr, LV, 88pt, Postal History
Jeff Long W. T. Wilson, Photographer and Postcard Publisher, Auckland, New Zealand 8fr, G, 92 pt, Postcards
Jenny Long A Study of New Zealand Picture Postcards 8fr, LG, 95pt, Postcards
John Paston The Suez Canal 8fr, V, 83pt, Open
Tony Schluter New Zealand Mail Routes and Rates Pre 1874 8fr, G, 92pt, Post History
Lachlan Smith Gold 4fr, LV, 85pt, Youth
Sue Vernall William Brown – Artist – Salisbury, England 1fr, S, 74pt, One fr Postcards
Best in class was awarded to Jenny Long for her picture postcard entry.
New Zealand's entries in the Literature Class achieved the following results:
Mowbray Collectables Kiwi Catalogue and Handbook of New Zealand Revenue and Railway Stamps 78pt, LS
NZ Postcard Society Postcard Pillar 78pt, LS
John Paston Gannet 77pt LS
Royal Philatelic Society of NZ The New Zealand Stamp Collector 84pt, V
David Smitham The Airmails of New Zealand: The Inland Flights — an Aerophilatelic History 83pt, V
Canberra 2022 (Aust half National) 18-20 Mar
Commissioner: Karen Jeffrey
Eighteen frames and 2 Literature entries from eight exhibitors were accepted: The philatelic entries were submitted as "scanned" entries as the commissioner was not able to travel to Canberra.
The results were as follows:
Colin Capill New Zealand Post's Products and Services. The First Eleven Years 1987-1988 LV, 84pt, Literature
Linsday Carswell The Early Postmarks of Banks Peninsula 3fr, LS, 74pt, Post History
Lindsay Chitty The American Great White Fleet Voyage of 1907-1909 4fr, V, 78pt, Postcards
Robert Duns Civilian Airmail to New Zealand 2fr, LS, 73pt, Aerophilately
David Loe Icelandic Parcel Cards 4fr, S, 68pt, Postal History
Jeff Long A Journey Around Egmont 3fr, G, 86pt, Postcards [Special Prize "Best Picture Postcard Exhibit"]
Peter Tozer A Study of the Small 18c Australian Embossed Pre-Stamped Envelope 2fr, LS, 74pt, Postal Sty
Paul van Herpt Scouting's Mail (New Zealand Scout and Guide Philately; An Historical Review) LV, 80pt, Literature
NZPF Awards
Covid-19 interfered with our efforts to get the 2021 NZPF awards presented but we persisted and are pleased to announce the recipients.
Pat Smit, Award for Service
Pat has been a stalwart of the Whangarei Philatelic Society for many years. She was actively involved in the Northland exhibition in 2007, three NZ One-frame, Inter-club competitions, the combined Northland meetings and involved in the bin room for a number of Auckland-based exhibitions. Our Northern Federation delegates were unable to travel to Whangarei but were suitably represented in the presentation with Monica Comrie a past delegate for many years passing the certificate and medal on our behalf to Pat.
Len Roberts, Award for Service
Len has been a stalwart of the Nelson Philatelic Society. First elected on to the committee in 1977 he has, with some breaks in committee service, has served on it fulfilled roles of Vice-President, President and has been the society's Patron since 2017. He has actively encouraged inter-club meetings between Nelson and Marlborough, has been part of the organising committee for the three NZ Inter-club one-frame competitions and Blenpex 2012 held in Blenheim and provided encouragement and practical support for Blenheim's acquisition of their philatelic building. Josh Black, Southern Region delegate presented Len's certificate.
Brian Vincent, Award of Honour
Brian collections have included Papua and Papua New Guinea, New Zealand, West Irian, Bhutan, Jazz, Astrophilately but he has become well known for his vast collection on rugby. He has shared these collections as exhibits or as the basis for talks given to many societies.
He was for a long period a Judge being on eleven exhibition juries including chairing the jury at Stampex 1983. After a period when he stood down from such roles he has decided to step back in and had hoped to judge at Royalpex. He did however, Chair the latest Philatelic Literature Exhibition judging team.
He has been actively involved in many exhibition organising committees. Brian has been on many society committees holding a range of executive positions in doing so. These include Christchurch, Royal, the NZPF and latterly Hutt Valley, Brian was even President of the overseas-based Papuan Philatelic Society from 1997-2001.
He is, however possibly best known as editor of the New Zealand Stamp Collector from 1985-1994 and 2008 to 2013 and of Volumes IX and X of the Royal's Postage Stamps of New Zealand.
Brian was presented with his award by Leigh Gravestock, Central Region delegate.
Lindsay Chitty, Award of Honour
Lindsay has been a lifetime collector starting with NZ stamps then postal history and branching out into many other aspects of philately and postcards. He first exhibited at Tarapex in 2008 and since then has developed a wide array of exhibits garnering awards up to FIP Golds in 2016 and 2017.
Lindsay shares these collections/exhibits with other collectors through visiting societies around the country and from his website https://lindsaychittyphilatelist.nz/
His exhibiting led to him becoming a national judge, and he has been NZ Commissioner to several overseas exhibitions. He also had a major involvement in both Royalpex 2017 and Royalpex 2021 and been part of other national exhibitions, NZ2020 and now NZ2023.
Lindsay belongs to several societies. He has been President of the Royal of NZ since 2014 and is a NZ representative of the Royal of London. Lindsay is a Trustee of the NZ National Philatelic Trust.
Lindsay was present with his award by Jenny Banfield, past President of NZPF.